Tips for women facing the in-laws at Chinese New Year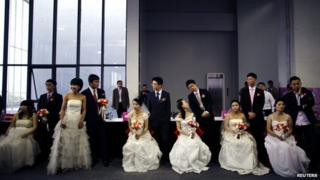 An online manual providing tips for women on how they should interact with their future in-laws when meeting them for the first time has ignited China's internet forums, which are full of anxious people travelling home to meet their partners' families for the first time at Chinese New Year.
"Don't bring gifts that are too expensive," starts the manual. "You are not begging to marry into their family."
"However, you should respect the in-laws," the guide continues. "You can take off your shoes and lie down on the sofa in your own house, but you should act elegantly at the in-laws' house. Don't allow them to laugh at you."
The list of how-tos has attracted some 140,000 responses since it was first posted on weibo, China's version of Twitter. A man who works for Hunan TV, a provincial Chinese television network, appears to be the first person to release the manual.
'Scrutinise them'
Families are gathering all over China for the upcoming Chinese New Year holiday, which begins on Thursday. Young people in serious relationships tend to bring their boyfriends and girlfriends home to meet their parents at this time of year, raising the stress levels for all involved.
The manual implores women against being too passive when meeting their partners' parents.
"Don't be too keen to offer your help with the house chores," it explains. "Say that you want to help. They will definitely say they won't need your help, so go with it. An unmarried girl should remain somewhat reserved."
"If you act too cordially, maybe the in-laws will treat you with less respect, since they probably think their son has already won you completely over."
"Also, don't assume that you are being scrutinised by the in-laws. Instead, you should scrutinise them, and see if they are involved in gambling or are prone to domestic violence. Your goal is to find out if it's a harmonious family, and is good enough for you to marry into."
Many internet users simply repost the manual on their own weibo feeds. However, others are critical of the advice it offers.
"What? So inharmonious families don't deserve to be married into? We should treat each other genuinely. If we try to hide things from the first time we meet, there will be problems," says one user.
"It's not a problem to help out with in-laws' house chores," says another. "I always feel very uncomfortable when they do all the work. My brother told me the only important thing is to think before you speak."
Others complained the manual was useless to them.
"First I have to find a boyfriend who's willing to bring me to the in-laws," sighed one female weibo user.
Any in-laws, many on weibo appear to believe, are better than the prospect of none at all.