Meet Taotao, the naughty boy to rival Mickey Mouse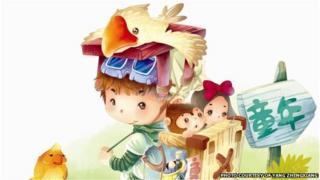 Meet Taotao, the naughty little boy who China's leaders hope will one day rival Mickey Mouse. China's pouring billions of dollars into its creative industries in the hope of creating high-paying jobs.
And the creator of Taotao is one of the beneficiaries. Yang Zhengxiang's animation firm is one of hundreds now located in a state-backed $690m (£420m) facility in the port city of Tianjin.
Mr Yang used to work out of a small studio employing less than 10 people. Now he has almost 70 staff.
Mr Yang says the character of Taotao - meaning naughty in Chinese - is based on his own childhood experiences.
He came up with the idea for the character after his five-year-old daughter was enthralled when she heard some of his boyhood stories.
"When I was young, I used to play from seven am to seven pm - poking beehives, climbing trees and running around the fields," he says.
"Our parents had no idea where we were. It was a time of no worries."
'Own style'
One of Taotao's exploits includes getting trapped up a tree by a snake after stealing fruit.
Mr Yang and his team produce cartoons and animated films in the style of traditional Chinese paintings.
"China hasn't got its own style when it comes to cartoons," he says. "We have to create our own style, our own characters."
As for Taotao, Mr Yang is still working on final drawings and storylines. He hopes his creation will be published later this year.
He has big dreams for the Chinese animation industry. "I hope that in 10 years, Chinese cartoons and animation will be known around the world," he says.