Zhou Yongkang next to fall in China corruption purge?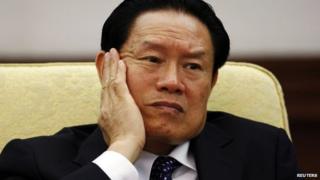 For months there have been rumours - and now increasingly reports - that one of China's top former leaders is being investigated for corruption and abuse of power.
Zhou Yongkang was one of only nine members on the Communist Party's Politburo Standing Committee, the body that in effect runs China. In other words, he is a huge political beast.
If the reports are true, he would be the highest ranking official since the Communist party came to power more than 60 years ago to face a formal corruption investigation.
This apparent investigation is being seen as yet another sign that China's leader Xi Jinping is rapidly cementing his authority since coming to power a year ago.
It appears that he feels confident enough to break the unwritten rule that China's top leaders - including those who have retired - shall not be investigated.
'Political earthquake'
One political analyst I spoke to described the apparent move as "political earthquake" that would send shockwaves through the ruling Communist party elite.
The Chinese government has yet to confirm or deny reports that Mr Zhou is under investigation - as is normal with these sensitive political issues.
On Monday, the New York Times, quoting several unnamed sources, said Mr Zhou has now been placed under virtual house arrest.
Before retiring last year, Mr Zhou was the country's security chief. He oversaw the Communist party's sprawling security apparatus - controlling the police, prosecutors, courts and the main intelligence service.
Mr Zhou rose to power while working in the country's oil industry. He had enormous influence as the sector rapidly expanded domestically and overseas to meet China's burgeoning energy needs.
Earlier this year, the Communist Party opened an investigation into current and former executives of the China National Petroleum Corporation - Mr Zhou's old power base.
His eldest son, Zhou Bin, is reportedly being questioned by the authorities.
The New York Times - quoting unnamed sources - reported that the principal allegations against Mr Zhou stem from these investigations.
So far no criminal charges have been announced against any of the key figures.
'Tigers and flies'
But this apparent investigation into Mr Zhou comes during President Xi's high-profile crackdown on corruption promising to tackle "tigers and flies". Mr Zhou is undoubtedly a tiger.
"By taking out someone so mighty in the system it shows that Mr Xi is in firm control of the levers of power," says Professor Dali Yang of the University of Chicago.
But he says that that the move risks creating divisions at the highest reaches of the Communist party.
"It means that someone that held the rank of the standing committee member is no longer exempt from investigation," he says.
"Former members will be worried that China's current leaders could come after them."
All corruption investigations in China are, of course, selective. Mr Zhou was the patron of the politician Bo Xilai who was purged earlier this year.
Reuters news agency quoted sources saying that China's new leaders were furious that Mr Zhou opposed ousting his ally.
It is not yet clear whether Mr Zhou will be prosecuted or punished. Communist party investigations do not always end in criminal charges even when an official is found guilty of wrongdoing.
Reuters quoted a source saying: "Zhou Yongkang is a toothless tiger and tantamount to a dead tiger. The question is: will Xi skin the tiger?"