The true value of China's Jade Rabbit robot Moon mission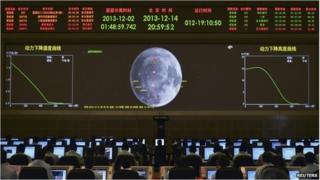 China's lunar landing is without doubt a major technological triumph, a real achievement, but has it managed to fire the imaginations of ordinary Chinese?
The Chang'e 3 lunar lander descended to the surface of the Moon in the middle of peak television viewing time, a little after nine o'clock on Saturday evening, amid a fanfare of coverage on CCTV, China's national broadcaster.
CCTV reaches almost all this country's 1.4 billion people. There were fancy computer graphics, and animations, of the probe descending to the surface. The animations at least showed a perfect touch-down.
Ahead of the landing there was little interest in the Moon mission on China's social media websites. On Sina Weibo, China's version of Twitter, it ranked a lowly 102 in the list of most popular subjects.
Afterwards it had climbed rapidly to be the number 1 topic. But, here's the rub, a large number of the posts were made by China's enthusiastic state-controlled media.
There were reams of posts from news websites, CCTV, Sina's own news service, China Radio International, Xinhua, and the Guangming Daily Newspaper among others.
There were some from official organisations like the Chinese UN Peacekeeping forces Weibo account. And more comments from companies and commercial organisations, for example a firm selling beauty products, even a company called Key that makes sex toys shaped like rockets.
Value beyond science
But while many individual Chinese reacted with pride, interest soon fell away.
Five hours after the landing, on the rival Tencent Weibo, there had been a total of 2.7 million posts about the moon mission, but 3.5 million about a football match in Guangzhou and 8.7 million about a popular TV show.
It may be that as this is a robotic, not a manned mission, it's harder to get excited about the Yutu "Jade Rabbit" rover than a real astronaut. It may be that excitement will build as the rover starts beaming back pictures.
And the achievement of course is undimmed. For China the mission is valuable in many ways.
It's a demonstration, to China's own people and the rest of the world, of how far this country has developed, of its scientific and technological prowess, of its ability to mobilise human and financial resources.
The mission will spur the development of communications and other technologies. There may be military and civilian spin-offs.
And above all of course, for a Communist Party's leaders the science is less important than the symbolism of a rising China, reaching for the Moon.