British graves located in Shanghai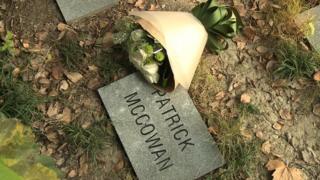 So many historical artefacts didn't survive China's Cultural Revolution, and foreign graves were no exception.
Even for the few that did, there's a fair chance that the country's subsequent breakneck pace of economic development would have done for them instead.
In fact the family of one of the Royal Ulster Riflemen recently discovered in a corner of a Shanghai cemetery were told that his grave was probably lost under a car park.
So the death of Private Patrick McGowan is now remarkable for two reasons.
Shattered fragments
Firstly, he was one of the first British soldiers to be shot by the invading Japanese troops in 1937, a killing so notable that it was mentioned in Parliament by the then British Foreign Secretary Anthony Eden.
And secondly, far from disappearing beneath a car park, his grave has survived against the odds.
It almost didn't though. The name on his headstone reads McCowan, with a C rather than a G, a sign that the original, along with many others in the cemetery, was smashed during the Cultural Revolution.
A small number were eventually given replacement stones, but the Chinese stonemasons would have had to piece together the spelling of the names from the original shattered fragments, resulting in a kind of game of memorial scrabble.
Private McGowan's other remarkable attribute worth mentioning in connection with this story is his possession of a very determined niece.
From her home in Londonderry, Sarah Moran has been trying to find the grave for years but, despite drawing a blank for so long, she refused to give up.
In a final act of desperation she wrote to David Cameron.
Spurred on perhaps by the publicity generated when her quest was written up in a local Derry newspaper, the Foreign Office contacted the British consulate in Shanghai, and they enlisted the help of a military historian.
The graves of three other Royal Ulsters were also found: James Mellon, William Christopher Howard and Joseph O'Toole.
And in one final remarkable turn of events for Private McGowan and his comrades their discovery just happened to coincide with a rare goodwill visit to China by a British warship.
And so this week, having been moved by the story, a senior Royal Navy commander, Rear Admiral Matthew Parr, paid his own personal graveside tribute to the men and their bit of British history that has survived against the odds.