Spinning your way out of smog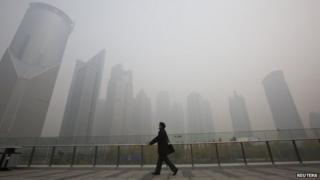 With many of China's cities choking on smog, state media have been going to wheeze-inducing lengths trying to put a positive spin on all the pollution.
One article in the nationalistic Global Times newspaper has even suggested that smog could bolster national security. It claimed that pollution could thwart missile attacks and make it harder for foreign countries to carry out hostile reconnaissance missions.
But the only smoke-screen that readers aren't buying is the one thrown up by the newspaper. Criticising the article, one internet user wrote that smog was already killing people here - and therefore there was no need for bombs and bullets from China's enemies.
Having prompted so much ridicule, the newspaper has now deleted the offending article from its website.
Not to be outdone, the state-run news agency Xinhua has published an article entitled "The Five Surprising Gains from the Smog".
The gains apparently include "uniting people" because smog is "everyone's enemy"; "equality" because rich or poor you breathe the same air (unless, of course, you can afford an expensive air filter, a point not mentioned in the article); and a "sense of learning" because people now know more about meteorology and chemistry.
Not stopping there, Xinhua even claims smog is making the Chinese a more humorous bunch.
To prove its point, the news agency published this "joke": "The longest distance is when I hold your hands but cannot see you!" Believe me, it works better in Chinese. But even then not many here are finding the joke - or indeed the smog - particularly funny.
Just last week, schoolchildren in Shanghai were ordered to stay indoors because of hazardous pollution. China's leaders may not be able to make the smog go away - but they're also finding they can't spin their way out of it either.