Pearl: Mystery surrounds disappearance of Beijing's famous pig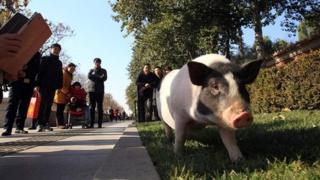 Piggy Pearl of Beijing is in trouble. She could not have imagined she would be famous one day. But after photos of her went viral on the internet she is now missing, feared pig-napped.
It all started with Pearl's daily stroll last week, when she was snuffling around the bushes near China's politically-sensitive Tiananmen Square, in the heart of the capital.
Tourists stopped what they were doing to marvel at Pearl's cute pink face, and after a little while a few white-gloved policemen turned up to keep the curly-tailed visitor out of trouble.
They did not interfere with Pearl's morning meanderings, it appears; just escorted her wherever she went.
Zeng Zhi, the photographer who took the photos of Pearl that lit up the internet, just happened to be visiting the square with his child.
The police told tourists not to get too close, he told us.
They said: "If you startle the pig and cause it to run to the Square, that'll be a mess!"
Now Pearl has made her name online, but she has not been seen since Tuesday morning.
"Pearl is no trouble maker. She loves the sunshine and the attention from the people," said Ms He, Pearl's owner.
"That's why she picked the lawns near the Square to hang out."
Ms He says Pearl went out most days for an unattended walk in the neighbourhood, but, being smarter than the average pig, she always returned within half an hour.
Now she is worried that someone may have hurt or even eaten her.
"I wouldn't mind giving Pearl to others if they promise to be nice to her. But now I just want her back," she said.