Swapping rice fields for city lights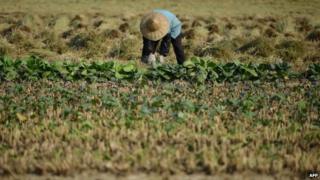 Of all the changes promised by Chinese leaders after a major Communist Party meeting in Beijing earlier this month, the pledge to "speed up" reform of the household registration system was considered most important to my extended family.
Most of my relatives live in rural China.
Several cousins have swapped the rice fields of Hunan province for the bright lights and bigger earning potential of the country's mega-cities.
But because by law they are still categorised as rural residents, they are not entitled to enjoy basic public services - including healthcare, social security and education - available to city folk.
This is why so many of China's 200 million or so migrant workers are forced to live apart from their children, seeing them perhaps once a year.
Some have described the household registration system, a legacy of China's imperial bureaucracy that evolved into a pillar of the centrally planned economy, as a form of apartheid.
Residency rights
So when officials from the Guangzhou government invited Hong Kong-based journalists to a question-and-answer session, I asked about their efforts to reform the "hukou" system.
Guangzhou is one of China's biggest and most cosmopolitan cities, with a total population of about 16 million.
Half of those people are "non-registered residents".
Since 2010, the city has introduced a points-based system for migrant workers to earn residency rights.
The system favours the wealthy, the educated and the young.
Local media have reported that some applicants have been volunteering or giving blood in order to improve their chances.
In the first two years, about 3,000 people a year have managed to become registered residents.
Officials predict another 3,000 people will gain residency status this year and in the years to come.
The city has promised to "gradually" break away from the hukou system.
But at this rate, it would take more than 2,000 years for all eight million migrants in Guangzhou to become registered residents.
Thousands of years would seem like an exceptionally long time, even for a country that prides itself on 5,000 continuous years of civilisation.