A crime more serious than corruption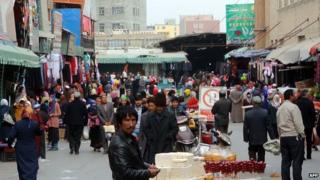 Forget corruption. In China, it's a much more serious political crime to be accused of "endangering state security", a vague umbrella of offences that include state subversion, leaking government secrets or inciting separatism.
Chinese authorities are accusing more and more people of such crimes, particularly those living in Xinjiang. That's the tumultuous region in north-western China that is home to repeated clashes between the minority ethnic Uighurs and the majority Han Chinese.
New statistics show 86% of those accused of "endangering state security" in 2012 came from Xinjiang, which comprises just 2% of China's population. Those convicted of that crime are facing lengthy prison sentences or the death penalty.
According to the statistics, 1,105 people were arrested in China for endangering state security, up 19% from 2011. The China Law Yearbook 2013 blamed a rise in state security crimes on a corresponding rise in "violent terrorism" and "extremism" in recent years.
In October, an SUV carrying three ethnic Uighurs plowed into a crowd of people standing at the edge of Beijing's Tiananmen Square, killing two bystanders and the occupants of the vehicle. The Chinese authorities said the incident was a terrorist attack and said the occupants of the vehicle were Uighur separatists. Five others were arrested in connection with the deadly crash.
'Perfectly safe'
However, it's unlikely their time in court will be publicised. Trials involving state security crimes are conducted behind closed doors.
Dui Hua, a US-based rights group which monitors the state security data, could only obtain the names of 17 people who have been tried or convicted of endangering state security in the past year, including just four from Xinjiang.
Getting further information out of the Xinjiang authorities is difficult.
The Xinjiang regional government spokesperson, Li Jie, said he was unfamiliar with the work of Dui Hua and had not yet received a copy of the new Chinese Law Yearbook, so he was unable to comment on the new statistics.
When asked about the current security situation in Xinjiang, Mr Li was eager to correct the biased portrayals of his adopted home.
"I think the social order and security in Xinjiang are the best in the whole country," Mr Li explained by phone.
"This terrorism and violence you've heard of in the news is caused by international organisations. It's Xinjiang's problem but these terrorist activities don't really affect Xinjiang's environment and its development," he added.
"For example, I'm from Shandong but I've been living in Xinjiang for many years. It's perfectly safe. If you come to Xinjiang, let me show you the streets. It's safe and perfectly harmonious."