Growing danger in Japan-China row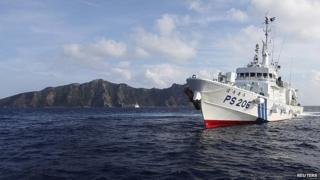 It's tempting to search for a sporting analogy for the latest downward-turn in relations between China and Japan. Diplomacy, too, can include a fair amount of point-scoring, feigned injury, national stereotyping and playing to the crowd.
The crisis over the uninhabited group of islands in the East China Sea (Diaoyu in China, Senkaku in Japan) is of course a great deal more serious than any sport. There is now a real danger that if the two countries begin enforcing their control of airspace over the islands with warplanes, an accidental clash could occur.
Unfortunately there's no prospect of a referee blowing a whistle for full-time, no hand-shakes between the players, and no diplomatic trip to the pub after the game.
It's not just that there are no acceptable candidates for the job of ref (the United States is certainly not considered a neutral umpire). It's actually difficult to see just how there can be any resolution to the dispute at all.
The issue of Chinese sovereignty over the islands has in many ways come to define the foreign policy of China's new leader Xi Jinping - even though this crisis began before he took the top job. Portraying China as newly assertive and unafraid plays well here. Anti-Japanese sentiment in China is widespread. All of which makes it easy to see why Xi's more muscular, and increasingly militarised stance towards Japan would be popular at home.
But it also leaves him with no room to back down with anything less than a full concession from Tokyo that the islands are indeed Chinese.
Over in Tokyo, there is no mood in Shinzo Abe's nationalist government to be seen to cower in the face of what's being described as Chinese bullying.
Two countries, two governments, one elected, the other not, but both giving themselves very little political room to move.
In Japan at least there are voices urging caution, pointing out the risks. In China the public discourse is heavily controlled and until now entirely free of any critical debate about China's policy and stance on the islands.
No voices arguing that China needs better relations with its neighbour, that the world needs its second and third biggest economies to get along.
So while backing down doesn't seem remotely possible, backing off is, for now, probably the best we can hope for.