China's rich struggle with countryside chores in TV show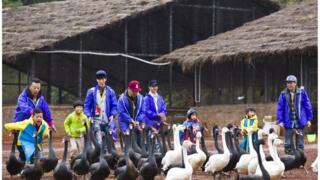 On Friday evening almost 200 million people tuned in for China's latest reality television blockbuster, Where Are We Going, Dad?
The show takes five celebrity fathers and their toddlers (including an Olympic diver and a male supermodel), rips them out of their comfortable urban lives, and throws them into life in China's remote countryside.
Rich dads and their spoilt kids give up their toys, phones and iPads, and learn to fend for themselves in a poor village - herding geese, catching fish and pulling lotus roots out of muddy ponds.
Celebrity watching in China is as appealing as anywhere else, and - in a country where dads don't do much of the child rearing - it's all the funnier to watch the rich and famous struggle with tantrums, and wrestle with pots and pans as they try to rustle up barely edible meals out of their meagre supplies.
But perhaps some of the appeal of the show comes from the meeting of China's urban rich with the country's rural poor - two parts of this vast country that seem to grow further apart each year.
One toddler asks her father: "Daddy, is this what the countryside looks like?", while lying on a hard plank bed, unable to contemplate why people would live in a brick house with paper windows, or cook over a charcoal stove.
And while the rich toddlers in their brightly coloured dresses try to catch goats, in the background you can sometimes glimpse poor village kids wearing dusty grey clothes, looking on curiously.
Scarcely a generation has passed since most Chinese lived on the land. But now, for millions of viewers from China's megacities, rural life (albeit sanitised for TV) is just a spectacle - a glimpse into another world.
It's a measure of how fast and how far China has come, but perhaps also a hint at how divided the country now is.