Master of a controversial art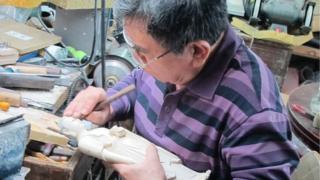 One of the joys of working as a journalist is the unexpected surprises you get while out working on stories.
We had gone to the Beijing home of Li Chunke, an ivory carver. In a career spanning more than a half a century, he has carved more than 1,000 ornaments.
Ivory carving is considered a traditional arts craft in China. Conservation groups say that surging demand for ivory in the country is fuelling a poaching spree in Africa - tens of thousands of elephants are being slaughtered every year for their tusks.
For this reason, it remains a hugely sensitive issue and Mr Li was nervous meeting us.
After 20 minutes of chat and green tea he asked us to come down to the basement. I had no idea what to expect. But there, in a tiny basement studio of an apartment building, was his studio.
There were dozens of tools strewn across every surface in the room.
Mr Li sat at one of the benches. Using a tiny drill, he carefully carved the cheek of a foot-high Buddha statue. Mr Li told me he had been working on the ornament for almost six months. At other benches, two apprentices were at work - the next generation of carvers.
Mr Li, who says he obtains his ivory through legal channels, was well aware of the growing controversy surrounding ivory in China. A number of Chinese celebrities have taken up the issue, calling on the public not to buy ivory to end the slaughter in Africa.
Mr Li was sympathetic to their cause. He told me he hates poaching, and as a Buddhist, condemns all killing.
But when an elephant dies of natural causes, then he says its tusks must be harvested and they shouldn't be allowed to go to waste. Otherwise, he fears a part of Chinese heritage could die with them.