The BBC's new China blog: An introduction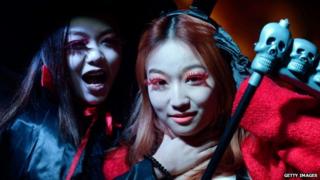 Welcome to the new BBC China Blog.
China is big. Very big. And hugely interesting, so we thought it was time we found a way to get all the BBC's journalists working in China to share their knowledge about the country with you.
On this page, our correspondents, producers and video journalists will bring you more stories from China, more background on the big issues and more about the smaller details of life here that tell you a lot about the country.
We hope you'll like it, and please let us know what you think. You can use the form below or the Twitter hashtag, #bbcchinablog.
First off, though, is a warning - the next sentence is tedious: please skip to the next line if easily bored.
Beginning in Beijing this Saturday is the Third Plenary Session of the 18th Central Committee of the Communist Party of China.
Still there? Good. Ignore the arcane language - it's a meeting of the top couple of hundred members of China's communist elite - the pinnacle of political power here. They are coming up with proposals for reforming China's economy - they say it'll be the most radical reform for a generation. If they're right, their decisions could completely change how millions of people in China live and work, as well as how the economy fares over the next 10 years.
The BBC isn't going to be covering the actual meeting, though.
We're not allowed in. Nor is anyone else here.
It's all happening behind closed doors. When they're done talking about it, the official state press agency Xinhua will let us know what they've decided, and we'll try to figure out what it all means.
In the meantime, we'll be looking at some of the big issues that affect China's economy and the people who work in it. Things like tax reform, interest rates and state monopolies but mainly those areas where the Communist party still tightly controls people's lives.
For instance, if you live in the countryside in China, you don't have the right to sell the land you live and work on. That can stop you leaving, investing, or finding a better line of work. It also means that land can be taken from you by local government keen to make money from developers.
If you do decide to leave to find work in a city, you can be denied access to public services like housing, or even schooling for your children. That leaves more than 200 million migrant workers living as second-class citizens in China's cities.
So even hints at reform in these areas would be big news for hundreds of millions of people. And we'll bring some of their stories to you on this page.
While many in China will neither know nor care about this week's meeting, they will be interested in the results - although we might all have to wait some time to find out what they are.