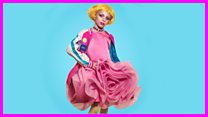 Video
The 'drag kid' who has Madonna and RuPaul as fans
11-year-old Desmond is a "drag kid" with celebrity fans including Madonna and RuPaul.
The LGBTQ advocate is known as "Desmond is amazing" told BBC Minute he's "helping people express themselves".
His mother Wendy said he's been dressing up from a young age and we want to encourage him.
She said: "We get messages from other parents who say our kids are just like Desmond and it's so inspiring."
She defended giving her son such a public presence, saying he enjoys being on social media channels and being able to interact with his fans.
She said she takes extra care to protect her son from any negative comments posted online.
She said: "I think it would concern anybody putting their child out there publically, but it's a matter of monitoring comments and reporting, deleting and blocking people so Desmond doesn't see them."
Producer: Priyanka Deladia
Go to next video: Life as a London drag king