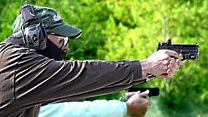 Video
US gun crime: American teachers carrying guns in the classroom
A number of schools in the US are opting to train staff to carry a concealed weapon in the classroom.
US President Trump has given his support, and US Secretary of Education, Betsy DeVos has said she's considering allowing schools to use federal funds to purchase guns.
We visited a programme in Ohio called FASTER Saves Lives, that's aimed at teachers who choose to bring their registered firearm into school.
(Photo: Man at gun range in Ohio, USA. Credit: BBC)
Produced by Daniel South, Jasmin Souesi and Joshua Smith.
Listen to World Update on the BBC iPlayer.
Go to next video: Does the US need more minority gun clubs?