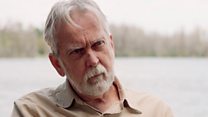 Video
US 'less safe' without the use of 'legal coercion'
Without an interrogation programme permitting the use of "legal coercion", the US is today less safe and more vulnerable to a terrorist attack, a former interrogator for the CIA has told BBC Hardtalk.
Psychologist James Mitchell helped create and carry out the CIA's "enhanced interrogation" techniques after the 9/11 attacks in 2001.
He personally interrogated - and waterboarded - many of the highest profile detainees including Khalid Sheikh Mohammed.
Asked whether there was a danger that coercion could lead to bad information as a person will say anything to stop coercion, Dr Mitchell told Zeinab Badawi that if you ask leading questions this might be true, but this was not something they had done.
"Let me be clear with you, what happened is when EITs ("enhanced interrogation" techniques) were used, we would say to the person 'we want information to stop operations, we know you don't have all of it, but you have some of it and that's what we want to talk about'. So the point would not be to tell them where we wanted to go."
President Barack Obama banned torture as an interrogation technique in 2009.
The CIA's position has been that the "enhanced interrogation" techniques it used under President George W Bush, did not amount to torture, because they were legally approved by the White House at the time.
US President Donald Trump has expressed support for the use of waterboarding, but says he will defer the decision on its use to his Defence Secretary General James Mattis and CIA director Mike Pompeo.
Watch the full interview on Thursday 30 March 2017 on BBC World News and BBC News channel or watch again on BBC iPlayer (UK only)