Media player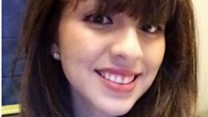 Media playback is unsupported on your device
Video
US diners asked for proof of residency by waiter
Diana Carrillo was shocked when she went out for a meal with family and friends in California to be asked for proof of residency.
Her subsequent post on Facebook brought her support but also accusations of "fake news".
The restaurant has apologised and the waiter was fired.
Diana Carrillo, who has Mexican ancestry, told Newsday's Alan Kasujja what happened.
(Photo: Diana Carrillo)