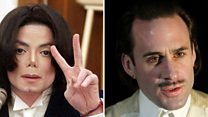 Video
White actor as Jackson 'not meant to insult'
Actor Brian Cox has defended the reason why fellow white actor Joseph Fiennes was cast as Michael Jackson in TV series Urban Myths.
Cox, who plays Marlon Brando alongside Fiennes, told 5 live's Anna Foster the decision was "never meant to insult" but that the programme makers had "difficulty getting a black actor to play the part".
His comments come after Michael Jackson's daughter expressed her outrage at the casting decision - Paris Jackson, 18, said she was "incredibly offended" after images surfaced of Joseph Fiennes playing the King of Pop.
Urban Myths is a collection of tales including one about Michael Jackson taking a road trip from New York to Los Angeles with Elizabeth Taylor and Marlon Brando, after the 9/11 terror attacks. More than 20,000 have signed a petition to boycott the film.
Click here for more 5 live In Short clips