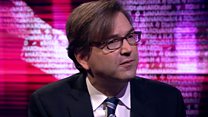 Video
Trump may struggle to repeal Obama's laws - Jason Furman
US President Barack Obama's chief economic adviser, Jason Furman, has said that it is unlikely that President-elect Donald Trump will be able to repeal certain legislation passed during the Obama administration.
Mr Furman told BBC Hardtalk's Stephen Sackur the "wisdom of checks and balances" in the US political system limited executive power, meaning it could be "slow and difficult to get anything done".
"It looks like this election was a big change in terms of who the leaders are. When you look at the actual legislative output - the actual change in policy - I think you're going to see a smaller change," said Mr Furman.
When asked about the future administration under President-elect Donald Trump, Mr Furman said, "We wish him the best success."
Watch the full interview on BBC World News and BBC News Channel on Friday, 18 November 2016 and on BBC iPlayer (UK only)
Go to next video: Obama's hopes for Trump on Russia