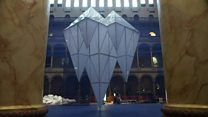 Video
Beating the summer heat at US iceberg exhibit
It's summertime in the US, and people are looking for ways to escape the heat.
The National Building Museum in Washington, DC, is offering visitors the chance to immerse themselves in a field of icebergs - or artistic representations of them, anyway.
This year's instalment of their annual Summer Block Party Series is an about-face from last year's blockbuster exhibit, in which the museum transformed its great hall into a "beach" - a giant ball-pit installation that represented day at the "ocean".
The BBC's Laura Trevelyan went to scope out the cool new exhibit, which opens to the public this weekend.
Filmed & edited by Olivia Lace-Evans. Produced by Sarah Svoboda
Go to next video: Bringing the beach indoors