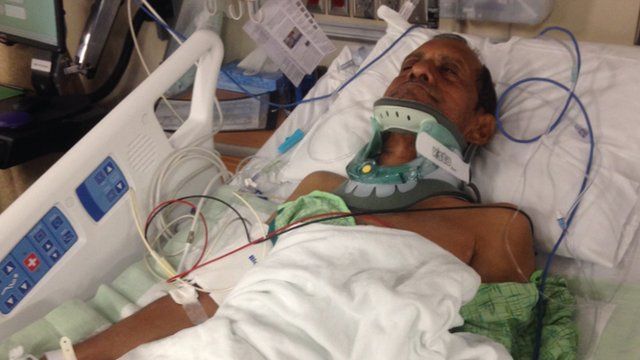 Video
Sureshbhai Patel speaks out over 'assault' by Alabama police
US prosecutors say they plan to try a police officer for a third time for allegedly using excessive force against an Indian grandfather who was pushed to the ground while he went for a morning walk.
Eric Parker has been tried twice in a federal court on the charge of use of excessive force - both times the jury failed to reach a unanimous decision.
The incident in February this year left Sureshbhai Patel partially paralysed.
In an exclusive interview with the BBC, Mr Patel's family say they hope the officer involved, Eric Parker, goes to prison for what happened.
Mr Parker is still awaiting trial for a state charge of third degree assault. The family is also suing for damages.
The policeman says he didn't mean to hurt Mr Patel, but acted in the interests of officer safety.
The case made international headlines - the Indian government raised concerns, prompting an apology from the Governor of Alabama.
Our North America correspondent Rajini Vaidyanathan has this special report.
Filmed by Franz Strasser; Edited by Bill McKenna; Produced by Sarah Holmes
Go to next video: Dashcam video of US police 'pushing'