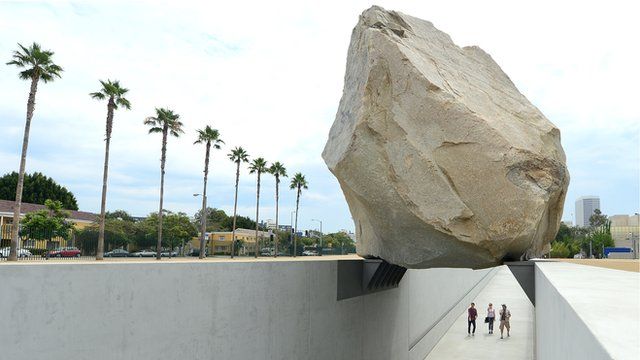 Video
Levitated Mass: Giant boulder's journey to Los Angeles
When the massive earth sculpture Levitated Mass made its slow journey through the streets of Los Angeles, thousands and thousands of curious fans came out to watch the spectacle.
The enormous boulder, which weighs 340 tonnes, was carried across Southern California on trucks in the middle of the night at a snail's pace. Traffic lights were removed to make space and bridges were avoided because the weight of the rock would likely destroy them.
The sculpture is the work of artist Michael Heizer. Filmmaker Doug Pray was there to document the rock's journey to the Los Angeles County Museum of Art.
Pray's documentary, Levitated Mass, opens today in Los Angeles.
Produced by the BBC's Regan Morris and filmed by Jack Garland
Go to next video: Kara Walker's monumental sugar sculpture