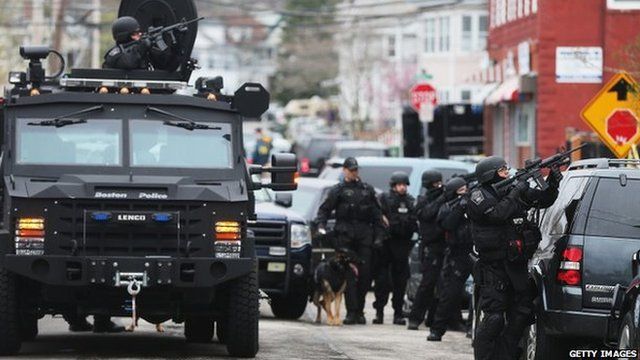 Video
Huge manhunt for Boston bomb suspect
Large parts of the city of Boston remain in virtual lockdown amid a major manhunt for one of two brothers suspected of bombing the city's marathon on Monday.
Dzhokhar Tsarnaev, 19, remains at large after he escaped a shootout in which another suspect, his brother Tamerlan Tsarnaev, died.
Col Timothy Alben of the Massachusetts State Police said officers in Watertown were searching "door to door, street to street" for the suspect, but there was as yet no word on his whereabouts.
Police said they had searched 60-70% of a locked-down area of a Boston suburb.
Three people died and more than 170 were hurt when two bombs exploded near the finish line of Monday's marathon.
Mark Mardell reports.
Go to next video: Public transport suspended amid manhunt