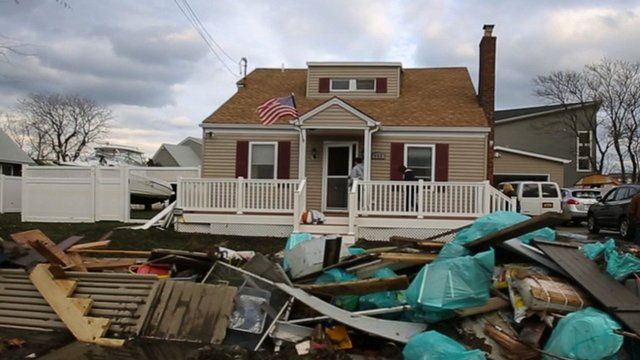 Video
Terror of beachfront residents who stayed during Sandy
When thousands of residents on Long Island fled to safer parts of New York ahead of superstorm Sandy, James Hogan made the controversial decision to stay.
As people in Babylon tried to come to terms the devastation on Wednesday, Mr Hogan described the "unimaginable fear" he and his family felt during the height of the storm - when the water was rising and a nearby house caught fire.
Other neighbours had chosen to evacuate before Sandy arrived and the storm surge threatened this vulnerable stretch of coastline. Caroleanne Gravert and Lisa Ludwig both stayed safe during the storm, but returned to find their homes partially destroyed by the waves and wind.
The BBC spent the day on Little East Neck Road South - a narrow stretch between the Atlantic Ocean and a canal - as the clean-up operation began.
Produced for the BBC by Anna Bressanin; camera by Ilya Shnitser
Go to next video: 'Complete devastation' in New Jersey