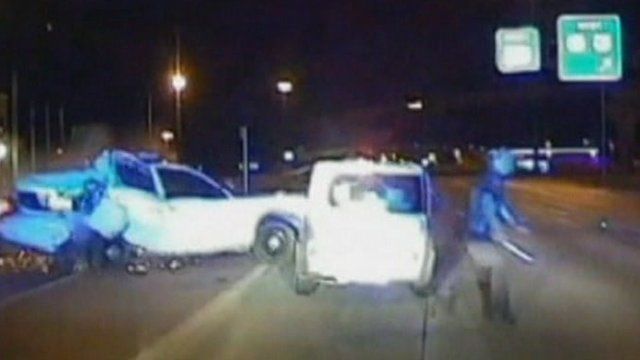 Video
Police car camera captures Texas car crash rescue
A dashboard camera shows the moment a police officer in Texas saved a woman from being hit by a police car, which had itself been hit by a van.
The footage shows two officers attending to a stationary vehicle, following an accident in Lubbock in the early hours of Monday.
A woman is seen following one of the officers to the other side of the car, when a van crashes into the parked police car, sending it spinning towards the woman and the two officers.
Officer Philip Standefer managed to push the women out of harm's way.
Sgt Jonathan Stewart of the Lubbock Police Department said: "He put his own safety to the side and made sure the person he was protecting was safe, at his own risk, so I think that is something that you could term a hero."
The driver of the van, Peter Keltz, was arrested and charged with intoxication assault.