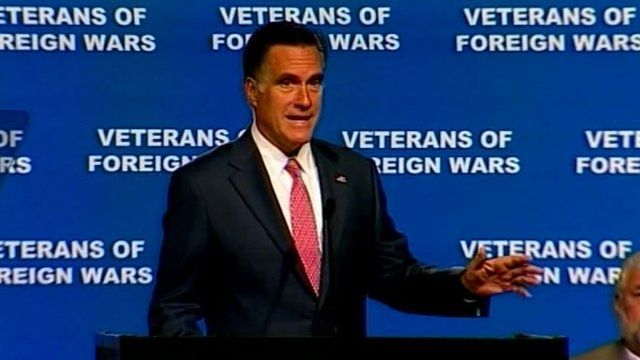 Video
Mitt Romney: Bin Laden raid leaks 'contemptible'
Republican presidential candidate Mitt Romney has said that the White House leaked classified information about the raid that killed Osama Bin Laden for political gain.
Speaking at the Veterans of Foreign Wars' national conference in Reno, Nevada, Mr Romney said the leaks were "contemptible" and demanded an investigation.
Mr Romney's remarks come on the eve of a campaign visit to Britain, Israel and Poland.
On Monday, when President Barack Obama addressed the same conference, he criticised Mr Romney for opposing the White House timetable for 2014 withdrawal from Afghanistan, and said the former Massachusetts governor would have maintained a presence in Iraq indefinitely.
Go to next video: US hotel gone in 10 seconds