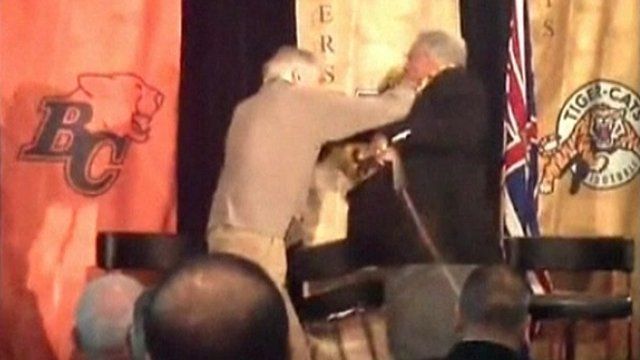 Video
Retired Canadian football legends Kapp and Mosca slug it out
Retired Canadian football legends and former rivals Joe Kapp and Angelo Mosca brawled at a Canadian Football League (CFL) luncheon honouring the 73-year-old players in Vancouver on Friday.
Joe Kapp, a former quarterback and Angelo Mosca, a former defensive linemen and professional wrestler, lunged at each other and exchanged blows after Mosca rejected a flower that Kapp had offered as a peace gesture.
Shocked onlookers broke up the two men, but not before Kapp had punched Mosca to the floor. The fight, which was at a CFL alumni event, left cynics wondering if it had been staged.
The two men have, however, reportedly been at odds for almost 50 years following a 1963 championship game in which Mosca apparently knocked one of Kapp's teammates out of the match.