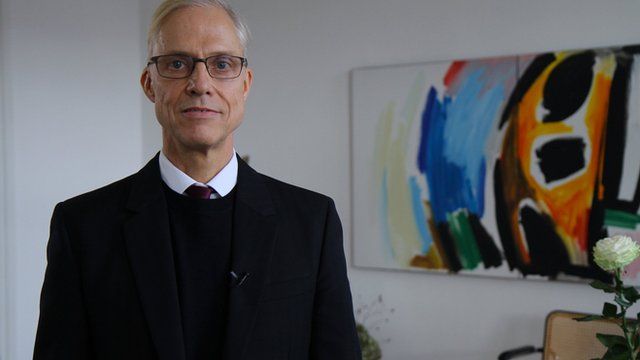 Video
Working Lives Berlin: Developer
How many millions would you pay for a penthouse apartment in a futuristic new development with a panoramic view of Berlin?
Not just any old building, mind you, but one with a gleaming metallic facade and sharp angles, the first residential property in Europe by architect Daniel Libeskind.
"We haven't set a price yet," says silver-haired softly spoken developer Nikolaus Ziegert.
Sapphire is still a construction site - but on a whistle-stop tour, it's easy to see its appeal to foreign wealthy buyers.
In many ways, this $43m (£29m) development symbolises the gentrification of the city.
It's certainly set tongues wagging, dividing opinion in the historical district of Mitte.
The luxury property market is red hot in this neighbourhood.
Almost everywhere you look from the roof of Sapphire, there are cranes at work, constructing a new Berlin.
Just over a decade ago, Berlin's mayor declared the city "poor but sexy", a reputation that helped attract innovative and creative businesses.
But now, with its fortunes rapidly changing and the gentrification this brings, is Berlin in danger of becoming a victim of its own success?