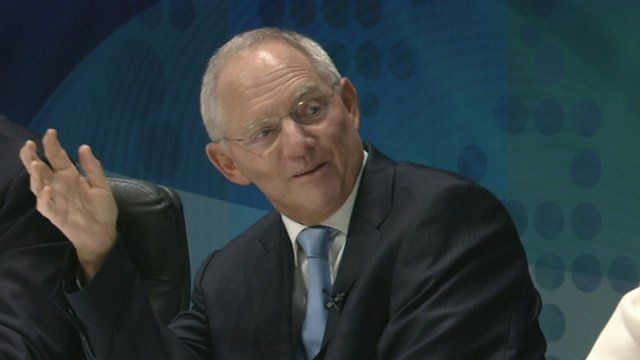 Video
Rescuing the global economy: what next? Part 4
The global recovery has suffered more setbacks this year and risks remain high. Growth has disappointed around the globe. The euro area economy has contracted while activity has decelerated in other major advanced economies such as the UK and US.
Major emerging economies have suffered slower growth, notably China, Brazil and India. Economic policies appear to be failing to rebuild confidence. So what will it take to get the global economic recovery back on track?
Joined by Christine Lagarde, managing director of the IMF, Peter Orszag, vice chairman of corporate and investment banking at Citigroup, Raghu Rajan, chief economic adviser to the Indian government and Wolfgang Schäuble, German finance minister - Nik Gowing hosts the BBC World Debate from Tokyo.
Watch the discussion - Rescuing the global economy: what next?
Part 1 How serious is the situation?
Part 2 How to grow confidence
Part 3 Austerity and stimulus
Part 4 Have austerity measures made things worse?
Part 5 When will recovery happen?
The World Debate is broadcast on BBC World News and BBC World Service.