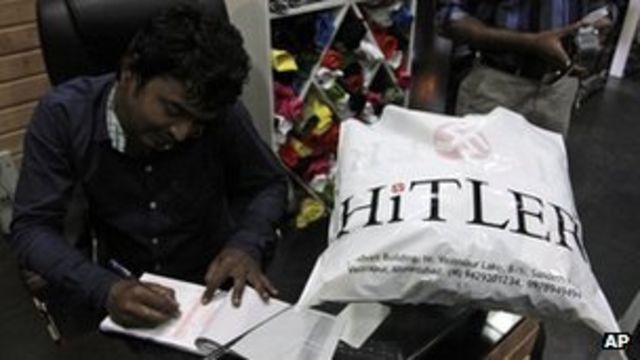 Video
Rajesh in India: 'I didn't have any idea about the history of Hitler'
Rajesh Shah, co-owner of a new clothes shop in India that's been named 'Hitler' tells BBC World Have Your Say he didn't have any idea about the history of Adolf Hitler.
The BBC's Krupa Padhy was speaking to Rajesh in his local language, Gujarati.
Jews in the city of Ahmedabad, where the shop opened last month, said using the Nazi dictator's name was offensive.
Rajesh tells World Have Your Say he will be renaming the shop and will be choosing a new name this evening. We'll be speaking to him again at 1700GMT and putting your suggestions to him.
Get in touch with World Have Your Say to suggest a new name for Rajesh's shop via email at worldhaveyoursay@bbc.com, Twitter, Facebook or text us on +44 77 86 20 60 80.
Our Skype name is BBC_WHYS; and while we're on air, you can call us too on +44 20 31 62 42 42.