Media player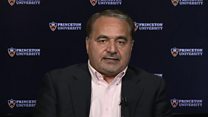 Media playback is unsupported on your device
Video
Mousavian: US could be 'dragged' into attacking Iran
Israel, Saudi Arabia and elements of the US want to see regime change in Tehran and this is a "risky situation," a former spokesman for Iran's nuclear negotiations team Seyed Hossein Mousavian has warned.
"[Israel's Prime Minister Benjamin] Netanyahu and Saudi Arabia, they are after regime change, they are after creating a war with Iran," he told BBC Hardtalk's Stephen Sackur.
"They are after dragging the US and the international community into a new war in the region," he added.
Israel v Iran: Are they heading for a war?
You can see the Hardtalk interview in full on BBC iPlayer (UK only).