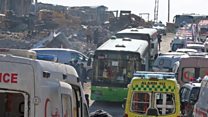 Video
Syria civil war: First buses leave rebel-held eastern Aleppo
After months under siege the first civilians are being evacuated from what is left of rebel-held east Aleppo.
The UN says it's hoped well over 1,000 will be taken out along a safe corridor to other rebel-held areas in Syria as part of a ceasefire deal mediated by Turkey and Russia.
The Red Cross is bringing the first evacuees out. One of the team said she had never seen such levels of human suffering before and that it was hard to believe how people survived.
In total around 30,000 people are still believed to be in eastern Aleppo.
Richard Galpin reports.
Go to next video: Orphans in video plea to leave Aleppo