Media player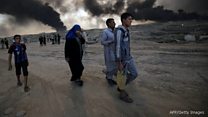 Media playback is unsupported on your device
Video
BBC deputy news editor Toby Castle on sanitising war reports
The BBC has broadcast a graphic TV report by Middle East Correspondent Quentin Sommerville.
It shows a father overwhelmed with grief at the moment his son dies after being shot by a sniper in the Iraqi city of Mosul.
But how does the BBC decide what is suitable to air in these situations? Toby Castle, the BBC's deputy news editor, spoke to Outside Source.
(Photo: Residents flee Mosul, Iraq. Credit: AFP)