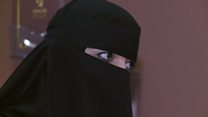 Video
The Saudi female-only phone shop
Female entrepreneur, Maryam al-Subai, has set up a mobile phone repair service that is run by, and only serves, women.
BBC News looks at how women's private details on their phones are being used to shame them in the conservative country.
This is one of a series of stories looking at a new and disturbing phenomenon - the use of private or sexually explicit images to threaten, blackmail and shame young people, mainly girls and women, in some of the world's most conservative societies. Join the debate using #ShameOnline.
Go to next video: The men being shamed by online blackmail