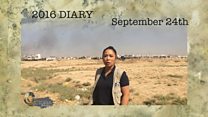 Video
Iraq video diary: All that IS has left behind
For several months an aid worker in Iraq has been recording a video diary of what life is like for families who have been left homeless by the conflict between fighters from the so-called Islamic State group and Iraqi soldiers.
In her latest video diary, Dr Bernadita Gaspar of the International Medical Corps, documents family homes destroyed by fighting, villages razed to the ground and burning oil fields as she enters areas that have been newly liberated from IS control.
The Victoria Derbyshire programme is broadcast on weekdays between 09:00 and 11:00 on BBC Two and the BBC News channel.
Follow the programme on Facebook and Twitter, and find all our content online.
Go to next video: The events that led to war in Iraq