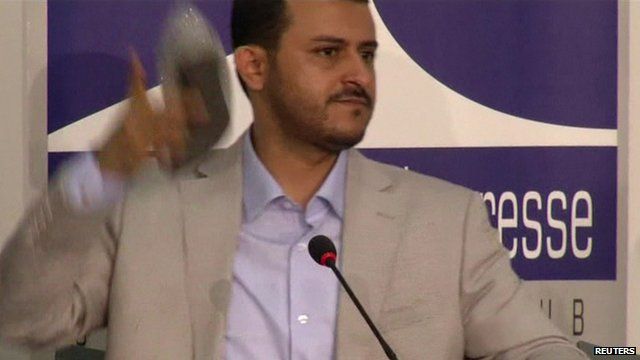 Video
Shoe thrown at head of Houthi delegation at peace talks
Supporter of Yemen's exiled government staged a protest as Houthi officials held at a news conference on the sidelines of UN-sponsored peace talks in Geneva.
One woman hurled a shoe at head of the Houthi delegation, Hamza al-Houthi.
She shouted: "Don't speak. This is a message from the people of Aden. I take this responsibility. Not because I am a journalist. I give up being a journalist."
"I, as a southerner and a citizen of Aden, everyday our families are dying and you have come to give a press conference. Who are you to give a press conference? Who do you represent?"
Go to next video: Talks to try and stem Yemen violence