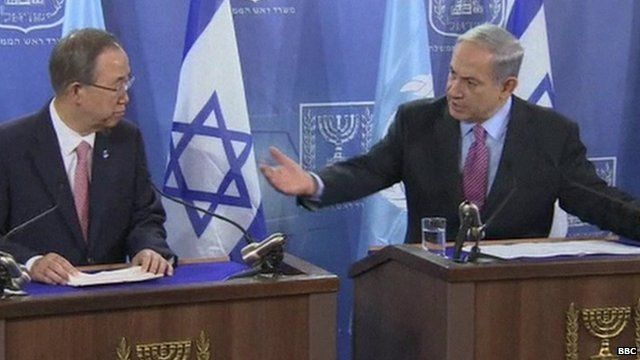 Video
Israeli Prime Minister Benjamin Netanyahu accuses Hamas of blocking ceasefire plans
Israeli Prime Minister Benjamin Netanyahu held a joint news conference with UN General Secretary Ban Ki-moon in which he blamed Hamas for blocking efforts to achieve a ceasefire in the Gaza Strip.
More than 600 Palestinians and 30 Israelis have been killed in the past 14 days of fighting in Gaza according to officials.
The UN relief agency in Gaza has reported that more than 100,000 Palestinians have taken refuge in its schools and 43% of Gaza has been affected by evacuation warnings or declared no-go zones.
Mr. Netanyahu said that Hamas had rejected three ceasefire proposals and called upon the international community to put pressure on the Palestinian militant Islamist organisation for "starting and prolonging" the conflict.
Go to next video: BBC on ground in Gaza as rockets fly