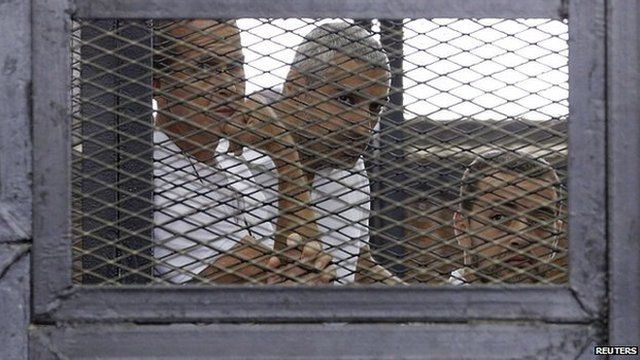 Video
Why were al-Jazeera journalists jailed? 60 seconds
Three al-Jazeera journalists are serving long sentences in Egypt having been found guilty of spreading false news and supporting the banned Muslim Brotherhood.
Mohamed Fahmy, a Canadian-Egyptian who heads the network's Cairo bureau, and Australian correspondent (and former BBC reporter) Peter Greste were jailed for seven years.
Egyptian producer Baher Mohamed was jailed for 10 years, receiving an extra three-year sentence on a separate charge involving ammunition possession.
The men were detained in a raid on their Cairo hotel last December.
Here is the background to the case - in 60 seconds.
Video produced by Mohamed Madi
Go to next video: Who are ISIS? 90 secs