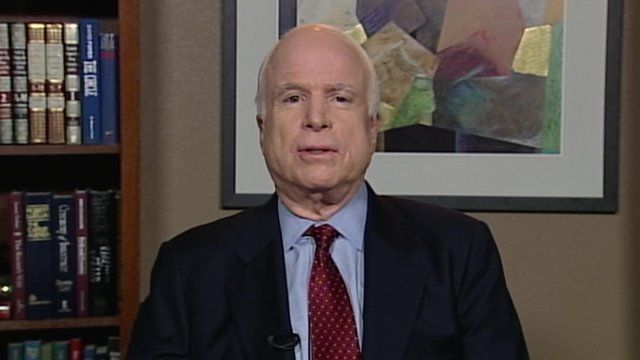 Video
John McCain: US aid to Egypt 'should be cut off'
Senator John McCain has said that the arrest of Egyptian President Mohammed Morsi was a "coup", and that US aid to the country should be cut off as a result.
Speaking to BBC Newsnight's Emily Matlis, he said: "The law is very clear that if there is a coup that aid is cut off and we decided not to do that."
"It's a great tragedy and the United States is basically an observer," he added.
US Secretary of State John Kerry has refrained from characterising the ousting of Mr Morsi by the military as a coup.
Senator McCain stood against Barack Obama in the 2008 presidential election and is a member of the US Senate foreign relations committee. He has repeatedly referred to the action by security forces in July as a coup.
Under US law, most aid must stop to "any country whose duly elected head of government is deposed by military coup d'etat or decree" or toppled in "a coup d'état or decree in which the military plays a decisive role".
Go to next video: Egypt still 'key ally' in Middle East