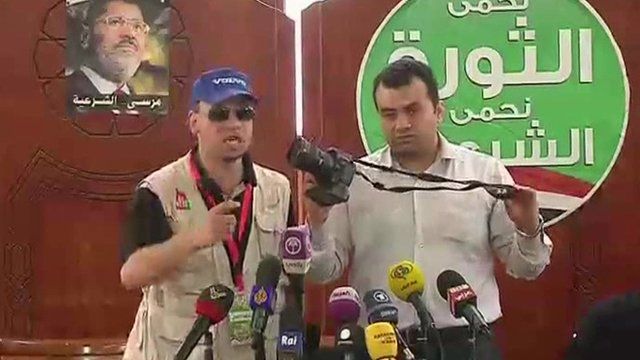 Video
Egypt unrest: 'A black day for the Egyptian army' - Muslim Brotherhood
At least 42 people have been shot dead near a military barracks in Cairo, amid ongoing unrest over the removal of Egypt's President Mohammed Morsi.
The Muslim Brotherhood says its members were staging a pro-Morsi sit-in at the barracks, where he is believed to be in detention, when they were fired on.
But the army said a "terrorist group" had tried to storm the barracks.
At a news conference, spokesmen for the Muslim Brotherhood held up a camera which they said was "stained with the blood" of one of the men who had been killed.
They said that soldiers are "ruling with fire and steel, with live ammunition," and that it was "a black day for the Egyptian army".
Go to next video: Morsi supporters shot dead in Cairo