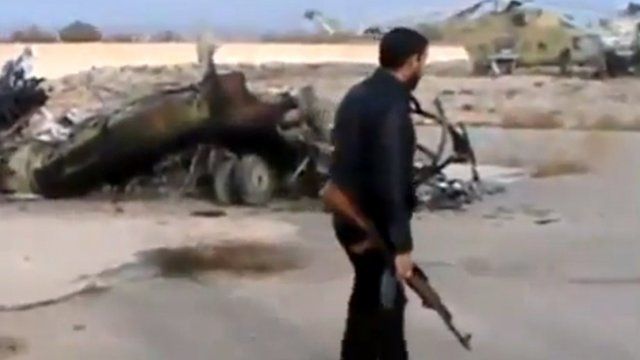 Video
Syria rebels 'seize Marj al-Sultan base near Damascus'
Syrian rebels say they have captured a military airbase near the capital, Damascus, after a battle in which two helicopters were destroyed.
The area around the base in Eastern Ghouta has been in rebel hands for some months.
Amateur video emerged showing a rebel standing beside a wrecked helicopter while a man speaking on the video said a warplane had been blown up.
Other footage purported to show rebels walking around the Marj al-Sultan base.
The BBC's Jim Muir says that President Assad's regime seems to be under "increasing pressure" from the rebels.
Go to next video: Syria jihadists: What you need to know