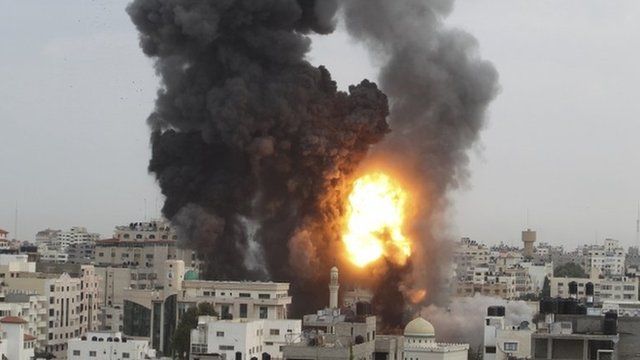 Video
Gaza crisis: Diplomatic efforts to create ceasefire
At least 105 people have died in the Gaza Strip in six days of violence, Hamas officials say, as Israeli forces continue a bombardment they say aims to stop rocket attacks into Israel.
The Israeli cabinet has been meeting to discuss an Egyptian ceasefire proposal.
The content of the Egyptian plan is not known, but both Israel and Hamas have presented conditions.
UN Secretary-General Ban Ki-moon has also arrived in Cairo to aid negotiating efforts. He plans to meet Israeli Prime Minister Benjamin Netanyahu and Palestinian President Mahmoud Abbas in the coming days.
James Robbins reports.
Go to next video: Gaza death toll 'over 100'