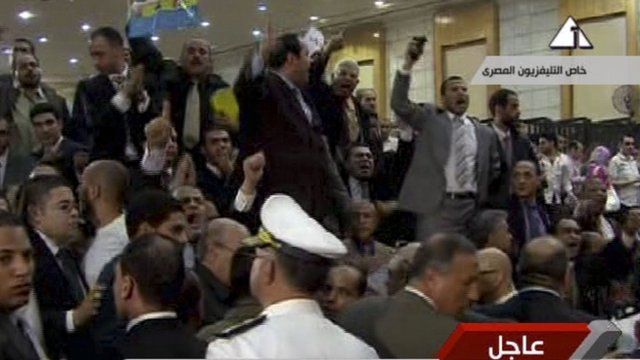 Video
Chaotic scenes as Mubarak is sentenced to life in prison
There were chaotic scenes in court when Egypt's former president Hosni Mubarak was sentenced to life in prison.
The court convicted him on charges of complicity in the killing of protesters during last year's uprising that forced him from power.
Some people jumped to their feet and began shouting, and there were minor scuffles.
Outside the court, angry shouts were heard when the crowd realised that Mubarak's two sons - Gamal and Alaa - were acquitted on corruption charges.
There were similar protests in Suez, the city regarded as the birthplace of the uprising against the Mubarak government.
Abdel Bari Atwan is editor in chief of Al Quds Al Arabi, a London based Arab newspaper.
Go to next video: Judge delivers Mubarak sentence