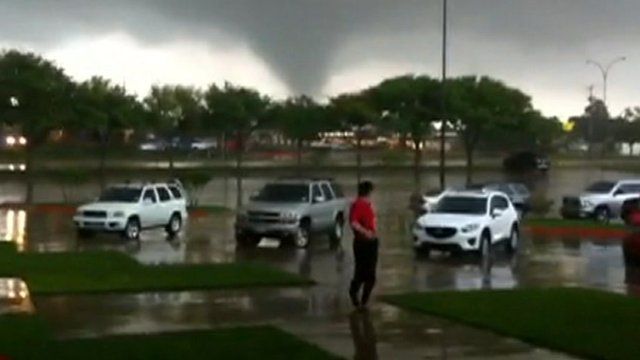 Video
Tornado eyewitness: 'I was in shock'
Several powerful tornadoes have touched down near Dallas, in the US state of Texas, flipping trucks, wrecking homes, uprooting trees and grounding planes.
Julie Kinnaird in Arlington, Texas described seeing, and filming, a tornado up close.
Ms Kinnaird said she had heard the warnings on the radio but assumed the storm would not come close to her location.
"All of a sudden it started hailing really badly outside," she said.
"[We] walked out outside to see the hail, and had noticed a large cloud forming [and] thought it might turn into a tornado. Sure enough, in a few minutes it did - it was about an eighth of a mile from our store where we work. It turned into a funnel and touched down in different parts of Arlington."
She added: "I was in shock - I've lived in Texas all my life, 32 years, I have never witnessed anything like that."