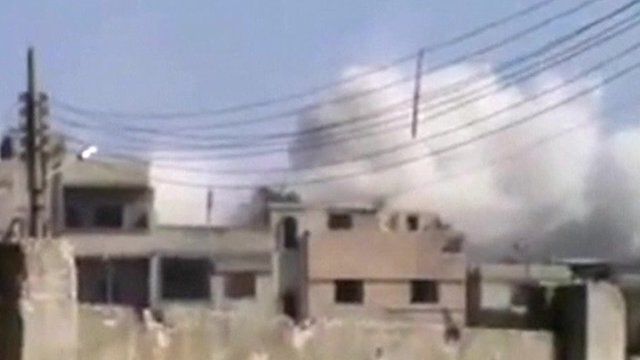 Video
The BBC's Paul Wood: 'Pretty constant shelling in Homs'
Syrian government troops have continued attacks on Homs according to the BBC's Paul Wood who is reporting from inside the city.
He said there had been "pretty constant shelling" and rocket launchers were being used against the city.
He also said there were claims a field hospital had been targeted although that had not been verified.
Watch other reports from the BBC team inside Homs below.
BBC team smuggled into Homs
Paul Wood and cameraman Fred Scott report from inside the city as it comes under bombardment.
'Everybody in Homs is staying inside'
Paul Wood says there are reports that Russian-made tanks inside Homs are firing on residents
'Shelling is constant, every few seconds'
Eyewitnesses say a field clinic was hit and that most of the casualties have been civilians.
'Despair and hysteria sum up the mood'
Paul Wood and the BBC team managed to 'slip out' of the city overnight during a pause in the bombardment.
People inside Homs 'feel trapped'
A mother in Homs: 'The outside world won't help us'
Go to next video: BBC team smuggled into Homs