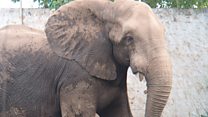 Video
Colombia zoo gives trafficked elephant root canal surgery
A zoo in Colombia has carried out an operation on a five-tonne African elephant with a broken tusk.
Thirty people took part in the procedure, which took three hours.
Tantor was brought to Colombia illegally by drug traffickers, and later rescued from a ranch. He had a fracture of the right tusk, close to the gum line, and the canal of the tooth was exposed and became infected.
Vet Dr Carlos Sanchez told BBC Radio 5 live: "Not only the Ochoa brothers, but also Pablo Escobar had exotic animals at that time, when they were very powerful. You name it, they could have anything they wanted."
Go to next video: Saving the world's rarest parrots