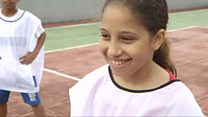 Video
100 Women: Brazil's football-loving girls defy stereotypes
Women were banned from playing football in Brazil for more than 30 years and girls can still struggle to be taken seriously on the pitch.
Ana Luiza, 12, and Luiza, 13, both love football but are often teased or dismissed by the boys they play with.
They want change and are taking part in a Challenge run by BBC 100 Women to tackle these stereotypes in Brazil. A group of experts have a week to make changes which will help these two girls feel more integrated in Brazil's thriving football culture.
Video journalists: Dina Demrdash, Ana Terra Athayde and Rhian Hankinson; Producer: Lourdes Heredia
What is 100 Women?
---
BBC 100 Women names 100 influential and inspirational women around the world every year. In 2017, we're challenging them to tackle four of the biggest problems facing women today - the glass ceiling, female illiteracy, harassment in public spaces and sexism in sport.
With your help, they'll be coming up with real-life solutions and we want you to get involved with your ideas. Find us on Facebook, Instagram and Twitter and use #100Women