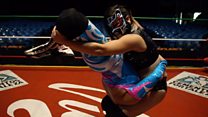 Video
100 Women 2016: The Mexican women who fight for a living
Mexican traditional wrestling has long been a male preserve. But that is changing fast.
"They told me this was for men, but I broke these barriers", says Marcela, one of the female stars of "Lucha Libre".
As part of the BBC's 100 Women season, we caught up with her and her friends as they were training at the historic Arena Mexico.
Video by Anna Bressanin. Archival images courtesy of Consejo Mundial de Lucha Libre.
Our 100 Women season showcases three weeks of inspirational stories about 100 influential and inspirational women around the world . We create documentaries, features and interviews, giving more space for stories that put women at the centre.
We want YOU to get involved with your comments, views and ideas. You can find us on: Facebook, Instagram, Pinterest, Snapchat, and YouTube using the hashtag #100Women. You can also listen to the programmes.
Spread the word by sharing your favourite posts and your own stories using #100women
Go to next video: The accountant turned nurse in Aleppo