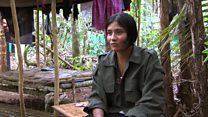 Video
Female Farc fighter admits foetuses were aborted
Women have played an important part in Colombia's Farc leftist guerrilla army ever since it was founded in 1964.
They make up about 30% of the ranks and are equal to their male colleagues.
But one female fighter has told the BBC women sometimes had to abort their foetuses to remain in the army.
Members of the Farc have now agreed to lay down their arms, reintegrate into society and become a political party.
It follows a peace agreement reached with the Colombian government to put an end to the 52-year internal conflict that has left over 260,000 people dead and millions displaced.
The country will need to approve the deal in a national referendum on 2 October before it can be implemented.
One woman who has been with the Farc for 15 years spoke to BBC News about fighting for the rebel group and the prospect of returning to civilian life.
Go to next video: Colombia and Farc 'agreement reached'