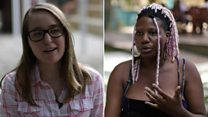 Video
Crossing Brazil's racial and class divide
Brazil has one of the most diverse and mixed populations in the world - but this diversity comes with huge inequality, both racial and social. Where you're born can have a major impact on who you are and the opportunities you'll have.
As part of our Identity season, Julia Carneiro investigates how far race and class can influence and perhaps constrain young adults growing up in Brazil - she follows two young women whose paths have crossed at a private university in Rio de Janeiro.
Produced by the BBC's Franz Strasser
As people become increasingly connected and more mobile, the BBC is exploring how identities are changing.
Listen to and download programmes from the World Service's Identity season.
Learn more about the BBC's Identity season or join the discussion on Twitter using the hashtag #BBCIdentity.
Go to next video: What makes you who you are?